The Faculty of Theology is under the guidance of Dr Hennie Goede as Dean of the Faculty. He welcomes you to our faculty in the message below.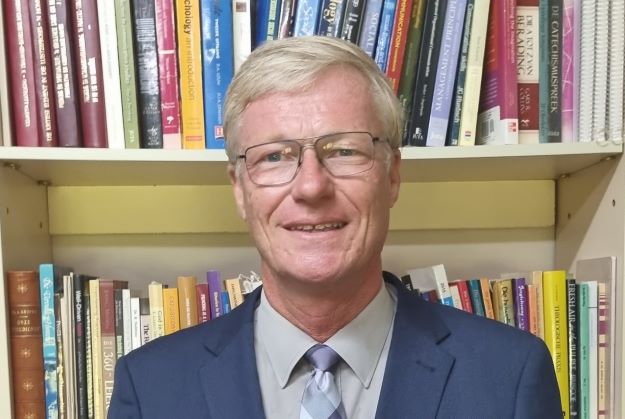 Dr Hennie Goede
Executive Dean 
 
Dear students and site visitors
Welcome to the Faculty of Theology at the North-West University. You are joining a family rather than a faculty. Our faculty caters for different theological traditions with our niche being reformational theology. This implies recognition that the Word of God, the Bible, originated through the inspiration of the Holy Spirit and that the Bible is therefore inspired and authoritative. 
Considering the unique nature of theology, we aim to serve the church and society, both nationally and internationally, through the enhancement of the Christian faith, the reformation of the church and the moral renewal of society. 
We offer programmes across all three campuses in Mahikeng, Potchefstroom and Vanderbijlpark, and our courses cover ancient languages and culture as well as qualifications required by various denominations to become a minister, pastor, or pastoral counsellor. If you are studying to become a minister or pastor, please ensure that you contact the relevant denomination or church to establish their specific requirements.
With our staff spread across all three campuses, you'll always have access to the faculty and support services offered by the North-West University. We also want to encourage you to participate in student life on our campuses, and letting your light shine! If you need any assistance, please contact your campus student chapter for Theology, faculty staff or me. Contact details will be made available to you. 
I hope that you will grab the opportunities presented to you in our faculty and university. Additionally, I pray that your studies will be a blessing to you and through you to others. 
Soon you will start the journey to follow your calling - we can't wait to walk this path with you!
---
Vision & Mission
The Faculty's vision
The Vision of the Faculty of Theology is to pursue the scholarship of Theology on a Reformational foundation; it maintains the conviction of unity between faith and science, and sees a close connection between Theology and Church, from the perspective of the Kingdom of God with a "glocal" focus on the different contexts that influence everyday life. Furthermore, the Faculty with its focus on Ancient Languages, is striving towards a scientific study of Ancient Texts in as much as it is concerned with the linguistic, synchronic, and diachronic reception of the texts.
The faculty envisions theological education that offer a life-creating process and experience. Theological education should carry a life-long effect in that it broadens and deepens the student's life experience to work and live meaningfully and laudably in communities. This is the ultimate destination of all students enrolled for any qualification in Theology. This end journey should be clearly and measurably embodied in four generic evidence-based outcomes that are ethically and socially justifiable. As a set of skills and competencies it encompasses the following:
Integrated and substantiated knowledge
Effective communication
Service leadership
Inquiry-based problem solving.
The Faculty's Mission
Although the faculty has 6 goals in mind as part of its mission for Teaching & Learning success, it can all be captured in this one mission:
The Faculty's mission is to build theological scholarship from a Reformational foundation and equip ministers, pastors, youth workers, missionaries and churches with both hard skills (knowledge and implementation thereof) as well as soft skills (ability to engage different worldviews and adapt to different and changing contexts) grounded in biblical truths to provide principled leadership within different contexts and communities. Furthermore, the Faculty of Theology, with its Ancient Languages niche, is striving towards a scientific study of Ancient Texts as much it is concerned with the linguistic, synchronic, diachronic and reception of these texts.