Theology - Honours Bachelor of Arts 
Hons BA is an NQF-level 8 qualification with a minimum of 120 credits. 
The admission requirements for all formal academic qualifications offered by the University are set out in the Admission Policy as approved by Senate and Council. In addition to these general requirements, the following apply: a) In special circumstances, the faculty may admit a student who is in possession of a non-Theological BA degree to Honours study in Theology. From 2018 successful completion of certain prescribed undergraduate BTh modules (80-120 credits), with a mimimum passing rate of 60% are required. For further information visit the web site of the Faculty of Theology. (The status quo will be maintained for previously enrolled B Status pipeline students until September 2018.) b) Students must apply for selection to the Programme Leader Honours BA on the prescribed form before commencing with the Honours study. c) Selection is based on students' academic achievements and their insight into the relevant module(s) for the first degree. d) For entrance into the Honours BA study, a average percentage of at least 60% is required in the module(s) at the third level of the first Bdegree/degree.
Honours BA Theology can provide admission to MTh.
 
[Accordion collapsed]
Code 
102145   T626M - Mahikeng


​

​

102145   T626P - Potchefstroom 
102145   T626V - Vaal
Delivery Mode
Contact and Distance
Programmes Outcomes
Students should be able, on the basis of intermediate advanced teaching and learning in Christian Theology, to:

a) function effectively in facets of the following: valid interpretation and application of the Bible (with tools), ecclesiastical ministry, pastoral counselling, ethical orientation and establishment of values, community development
b) function in a multicultural and international context
c) register for an MTh
Duration of Study
The minimum duration for full-time study is one year, and the maximum duration two years. The minimum duration for part-time study is two years, and the maximum
duration three years provided that students may apply for an extension of the period in accordance with General Academic Rules (see A.1.14 & A.1.17). 
Compilation of curriculum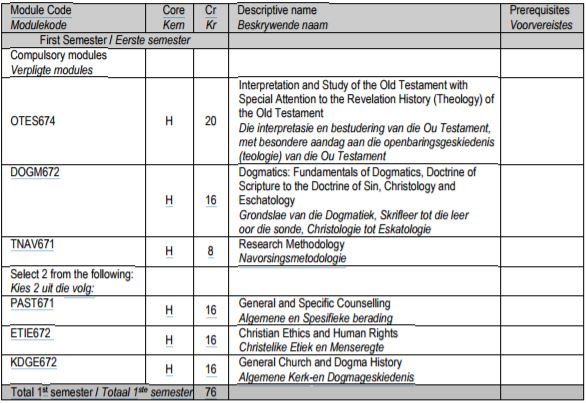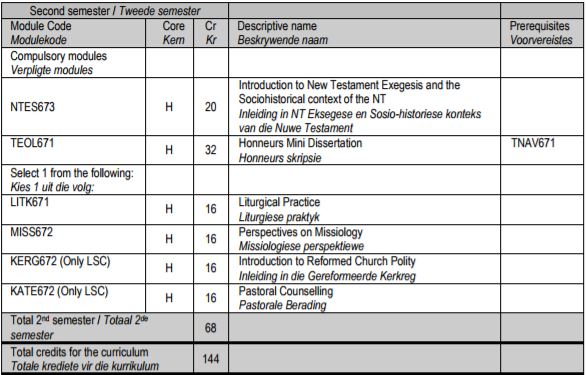 Compilation of curriculum for students who wish to enter ordained ministry in the AFM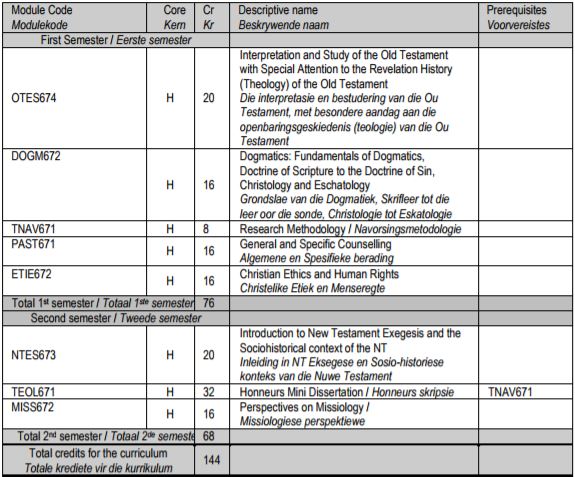 [/Accordion]